In good news, the CDC says those vaccinated for COVID-19 do not need to wear masks – even indoors. If trading masks for the vaccine doesn't sway staff, you may wonder how others are driving vaccine acceptance.
A recent McKnight's article, Mandate staff vaccines or promote them with a $1K bonus? compares Jewish Senior Services' decision to mandate the COVID-19 vaccine to The Gardens at DePugh Nursing Center's offer of a $1000 bonus, which helped them achieve a 92% vaccination rate.
Adding to that, we've put together a summary of how other organizations are getting it done based on an article from Becker's Hospital Review, 15 employers, hospitals rewarding workers to get COVID-19 vaccines.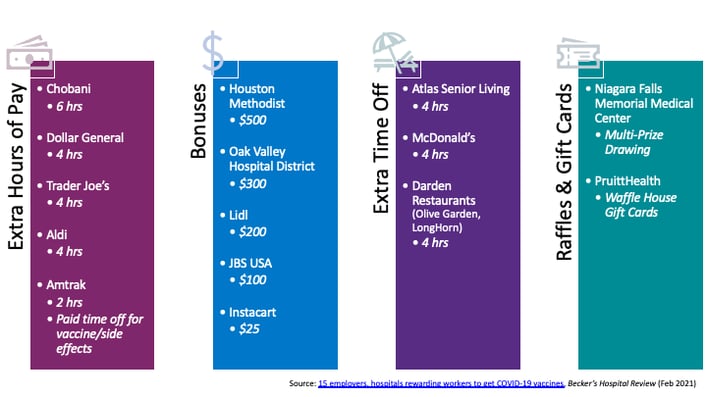 Additionally, take look at our previous infographic, 9 Tactics for COVID-19 Vaccine Acceptance in Nursing Homes.
These tactics come at a good time, given CMS' release Tuesday of a new rule, asking requires long-term care facilities to report weekly COVID-19 vaccination data for residents and staff.
For those of you using our primeVIEW KPI dashboard, you now have the ability to track COVID-19 vaccinations across residents. If you're not using primeVIEW, request a demo. Vaccinations aren't the only critical measurement it tracks!