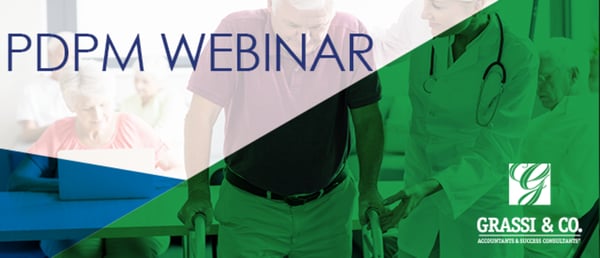 PDPM WEBINAR FOR C-SUITE EXECUTIVES
Thursday, March 7, 1-2:30 p.m. EST
Executives of skilled nursing facilities have had to adapt to many changes, especially on reimbursement issues. With the new Patient Driven Payment Model (PDPM) coming in October, it is important to learn how to leverage the new model for quality and financial improvement.

This webinar will explain the opportunities and provide your company with the blueprint necessary to realize the benefits!
SPEAKERS
Clint Maun, Maun-Lemke, LLC
Joseph Tomaino, Grassi Healthcare Advisors, LLC
Cheryl Field, Prime Care Technologies
Sharon Thole, LoveFunding
Kris Mastrangelo, Harmony Healthcare
Susie Mix, Mix Solutions, Inc.
SPONSORED BY