Comprehensive Security-as-a-Service (SaaS) - a single, integrated suite with all the benefits of email, endpoint, and web protection solutions
I
mmediate, up-to-the-minute Data Leak Protection (DLP) to ensure your data, systems, and networks are instantly and always secure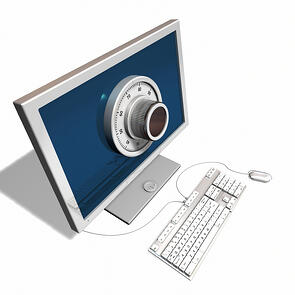 Prime Care Technologies offers multiple layers of DLP for desktop PCs, Macs, laptops, network files and folders, removable media, and USB storage devices with McAfee's Security-as-a-Service (SaaS) cloud-based protection solutions. You can transparently secure a broad scope of confidential information, including data, intellectual property, legal and financial records, and employee communications — with no system performance degradation.
According to Gartner, information encryption stored on endpoints is one of the most effective security controls to protect information from unauthorized access, especially when devices are lost or stolen.
PCT offers you essential, enterprise-class DLP:
Easy encryption delivering near native performance on PCs and Macs via Intel AES-NI, making encryption nearly imperceptible to end users, and enables content to be safely shared with partners and customers, through any medium. This robust DLP solution continually monitors your environment, encrypting new systems as they come online to enforce endpoint security policies.
Easy deployment — You can prevent failures during deployment workflow for PC, Mac, and Opal. This DLP solution accelerates system build processes by streamlining installations with offline activation, fast initial encryption, and encryption retention during re-image.
Easy maintenance and reporting — Using the management console, you can remotely correct a systems fault or deficiency without physical intervention and generate dashboards that correlate your real-time security posture with proof of encryption and compliance reporting.
SaaS Endpoint Encryption includes:

Drive Encryption delivering full disk encryption for PCs and Macs to prevent exposure of sensitive data on laptops and desktop computers (especially in the event of loss or theft) with transparent encryption. This solution enforces strong access control with two- and three-factor, pre-boot authentication. Drive encryption is compatible with a broad range of standard hard drives, self-encrypting drives, solid state drives, and Apple Fusion drives.
File and Removable Media Protection — Scalable to support a virtually unlimited number of users, the file and removable media protection automatically encrypts files and folders as they are shared or moved through an organization. It prevents unauthorized access to data on PCs, laptops, and network servers; secures information saved on removable devices and media that can connect to enterprise endpoints; and enables users to read, edit, and save encrypted data on USB storage devices, CDs, DVDs and ISO files. Encrypted files can be sent to others with no need for the recipient to install any encryption software.
SaaS Email Encryption

PCT offers an enterprise-level solution to prevent data loss and protect email data. Built on a foundation of trusted and proven standards-based encryption technologies, this email encryption solution is easy to activate and manage. Together with deep content inspection capabilities, pre-built extensive compliance libraries help your organization comply with regulatory, regional, or corporate requirements.
With built-in compliance templates, you can identify sensitive data quickly. In addition to identifying keywords and phrases, SaaS Email Encryption has hundreds of pre-built data loss prevention rules, enabling you to leverage advanced data loss protection and compliance capabilities. Features include the ability to fingerprint and register documents to detect and block key documents — or even select language from within those documents — from being emailed out of the organization.
Drive consistency with customizable, policy-driven encryption. As an IT administrator, you can use the unified, web-based console to set, review, and customize privacy policies (policy-driven encryption) to automatically encrypt confidential content. You can also customize and enforce multiple policies for user groups, branch offices, and lines of business.
Because it is easy to use, your data is more secure. Why? Because your employees will use it. Simply send your email and the content, including over 300 attachment types. The system automatically scans and encrypts your email if it matches your set policies transparently behind the scenes. However, you can also tag your email to be encrypted by simply adding "[encrypt]" to the subject line or within the message body. As a recipient, you can retrieve the message from the web-based message pick-up portal or read an encrypted message that was sent to your inbox through a browser reader. When you reply, the message will also be encrypted, providing you with bidirectional protection.