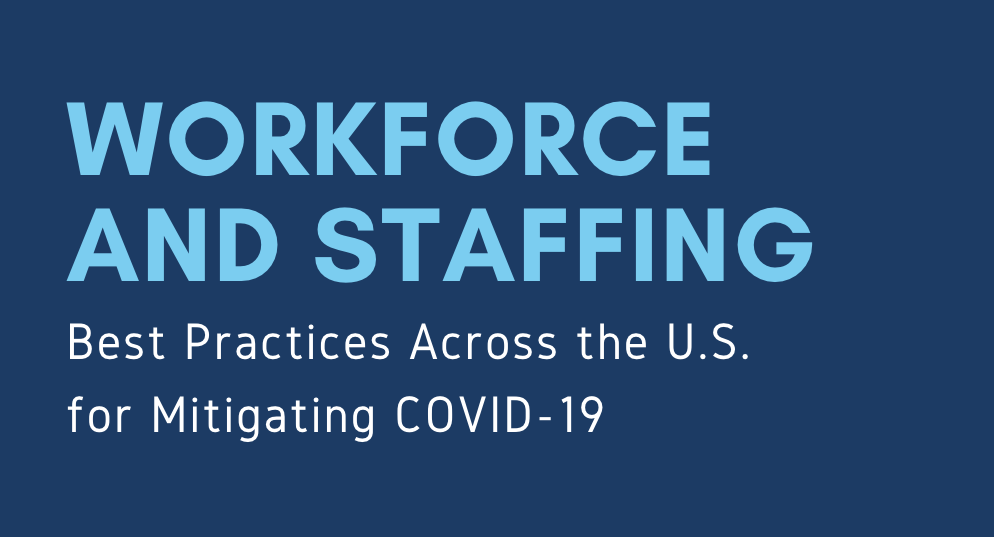 We know you're busy! So we've combed through CMS' 158-page Toolkit on State Actions to Mitigate COVID-19 Prevalence in Nursing Homes for best-of-best practices from various states in the area of Workforce and Staffing.
Read on and download/print our At-A-Glance infographic to share among your peers.
Adaptive Training and Licensing
Several states developed temporary training programs for nurses aides/assistants and personal care attendants to deliver willing individuals quickly to the workforce.
A couple of states got adaptive, allowing registered medical technicians (RMT) and certified home health aides (HHA) to function as certified nursing assistants (CNAs). South Carolina recruited Emergency Medical Technicians (EMTs) to perform tasks that nurse aides generally perform (personal hygiene, nutrition, ambulation, and elimination, as well as taking vital signs). And in Kansas, hours worked as a CNA Trainee II count toward hands-on hours required for CNA training.
Arizona relaxed continuing education requirements and extended licenses. Florida extended licenses for health practitioners, while also allowing reactivation for those whose license lapsed within two years.
Supportive Workforces
Delaware opened options by removing restrictions on out-of-state health care workers, while Ohio significantly enhanced Medicaid's telehealth policy.
Massachusetts and Michigan are backed up by Rapid Response Programs developed to provide short-term support to those in staffing crisis. New York continues to utilize Air National Guard pararescuers trained as EMTs to support city hospitals.
Illinois is one of eight states to partner with the American Medical Association (AMA) for
volunteer health care professionals.
Staff Incentives and Relief
In DC, the government is partnering with licensed child care providers to extend vouchers to healthcare professionals in need of emergency care.
The National Nursing Home Social Work Network through the University of Iowa offers online support group meetings to its healthcare workforce.
Massachusetts enacted a 10 percent MassHealth rate increase (approximately $50 million) for all nursing facilities. Meanwhile, the New Hampshire Employment Security is incentivizing front line, direct-care workers to remain or rejoin the workforce.