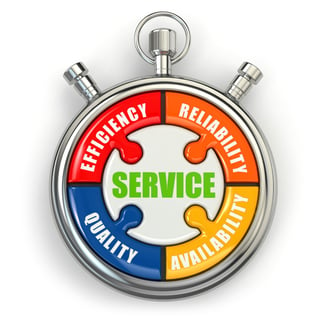 In March and April, we posted Payroll-Based Journal (PBJ)-related blogs to help our readers further understand and prepare for what the Centers for Medicare and Medicaid Services (CMS) will require of them starting July 1st. In this posting, we'll take PBJ reporting one step further. But first, we assume you are not inclined to create your own system to input the necessary data and compile it into an XML file. If this describes your situation, then you will need to contract with a vendor to help you automate the process. And we think doing so is well worth the time, effort, and money.
Quick PBJ summary
But first, at a high level, let's rehash information found in previous blogs about PBJ reporting. In our blog, dated March 15, 2016, we encouraged providers to get started now. Why?
Submission will be mandatory, effective July 1, 2016. Providers will be required to file both staffing and census data no later than 45 days after the last day of each fiscal quarter (i.e. for the quarter ended September 30, 2016 electronic reporting must be completed no later than 11:59 pm EST on November 14, 2016).
Every quarter, providers must use the online PBJ system provided by CMS to report the hours staff – AND contractors – were paid to perform onsite services for facility residents, excluding paid time off (e.g., vacation, sick leave, etc.).
The PBJ system will only allow XML file submission – one per facility – and/or manual data entry at this time.
We warned, "Don't be lulled by the November 14 3rd quarter reporting deadline. Collecting this data and preparing it for submission will take time – lots of time (and money) – especially if you are trying to do this manually." It's expensive and prone to clerical errors. Automate as much as possible by contracting with a vendor that offers PBJ reporting automation.
Even automated solutions will require some manual data entry
Please be aware that no matter how automated the system is that you select, there will still be a need for some manual data entry particularly for those direct care staff whose time your time and attendance application may not capture sufficient to meet PBJ requirements, such as:
Salaried and corporate staff
Contract workers
Staff who may wear different hats throughout the shift
Staff attending a training or inservice session
Exempt nursing staff filling in for a call-in floor nurse
Allocating hours for the 3rd shift accountable over a two-day period
Splitting hours between the certified and non-certified sections or for those facilities with certified residents housed in a facility that does not have a distinct part
Engaging a PBJ reporting solutions vendor
Determine the features each solution offers and confirm that they have been sufficiently tested. For example, is the solution able to?
Integrate cross-facility data from employee and census systems
Allow providers to manually enter and append contractor data to the existing file
Enable providers to view/monitor a summary of employee and contractor hours
Automate mapping of labor codes to CMS codes
Retrieve multiple XML files
Export one all-inclusive XML file per facility for quarterly upload to CMS
There is still time, though short now. Look at offerings, check their features, confirm their compatibility with your organization's intended best practices, check references, and confirm. Then execute and test, test, and test. Don't cut corners.
If you would like a no-obligation demonstration of our tested PBJ Reporting Platform, call 877-644-2306, or click here to request a demo.
FYI - Here's a valuable PBJ summary document - https://www.cms.gov/Medicare/Provider-Enrollment-and-Certification/SurveyCertificationGenInfo/Downloads/Survey-and-Cert-Letter-16-13.pdf