The Federal Communications Commission (FCC) and Centers for Medicare & Medicaid Services (CMS) are making it more lucrative than ever for senior care facilities to toe-test telehealth – and they're no longer catering to just rural facilities.
FCC Funding
To date, the FCC's COVID-19 Telehealth Program has approved funding for 238 health care providers:
Urban and rural
In 41 states plus Washington, D.C.
Totaling $84.96 million (of $200 million available)
This means there's 58 percent – $115 million – in funding still on the table.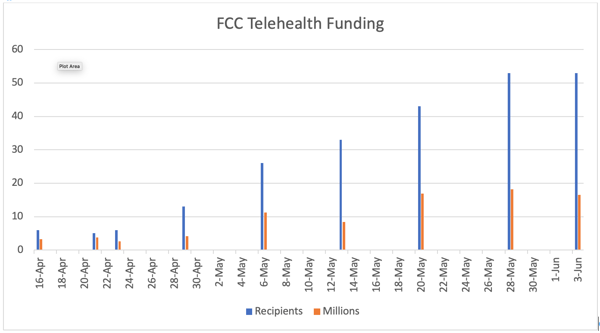 Criteria to award funding
Conditions to be treated
Goals and objectives for use
Timeline for service/device deployment
Factors/metrics used to measure impact
Geographic area/ population served (pre-existing strain, provider shortages, rural closures, limited broadband and/or internet adoption)
Ability to target high-risk and vulnerable patients
Resources
CMS Changes
Meanwhile, effective March 6 and for the duration of the COVID-19 emergency, Medicare is willing to pay clinicians the same fee for services rendered via telehealth to any beneficiary anywhere (e.g., treat-in-place). Previously it was limited to rural SNFs and/or required patients to come to a telehealth facility for treatment. Now various clinicians, including specialists, can treat your patients right in your facility and all skilled nursing facilities are eligible.
And, don't be put off by the 'temporary' implication of this change. Word has it, CMS may make temporary telehealth provisions permanent, based on positive results.
Resources
Conclusion
With telemedicine trending as it is, make sure you take time to understand the funding available and get a slice of that pie. What's more, this may be the fix you've been looking for to fill staffing gaps. Virtual treatment grants you access to remote clinicians anywhere, not just locally.