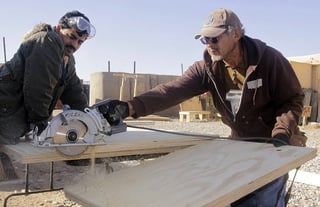 "Measure twice, cut once." How often I have heard that truism and when heeded, it has saved me countless hours of redoing, perpetual visits to the local hardware store, and unnecessary spending. My bank account thanks me. My wife is grateful. And the results at least meet expectations. But measuring twice and cutting once has a much broader application beyond do-it-yourself projects.
When it comes to claims submission, we all agree that submitting a clean claim the first time saves time, reduces frustration, and ensures that cash is in the bank as soon as possible. Here are some guidelines and tips we offer to help providers, like you, to measure twice and cut once:
Identify prior to admission who the payers are. Follow best practices and gather the required documentation. Don't take their word for it. Assume you were raised in Missouri, the "show me" state.

Make sure the resident meets the payer's eligibility requirements. It's one thing to know who the payers are, it's entirely another thing to confirm that the resident's services meet the eligibility requirements for payment. Our clearinghouse offers direct access to HETS to help providers determine Medicare eligibility for specific services.

Depending on the state, providers may with have to check for Medicaid eligibility by phone or can use an electronic system.

The claim should include all direct care services specific to the covered period identified in the claim, including ancillary supplies, therapies, and diagnostics, depending on the resident condition.

Code properly. Providers have just experienced the Y2K of ICD-10 and it appears that the transition has been fairly uneventful, at least from what our customers have experienced. But celebration may yet be premature. We encourage providers to keep up the pressure and audit, train, retrain, and update. Now is not the time to relax.

A major key to successful first-time clean claims submission is communication. In some case, we have heard of billers identifying ICD-10 miscoding and not communicating the corrections back to the clinicians. Part of the training process needs to include feedback flowing back and forth between coders and billers.

For those who bill for Part B services, watch the CPT codes edits, including which codes may or may not be coded together. Be vigilant in keeping up with the frequently-changing CPT codes.

Some common errors our providers have encountered include the wrong payer ID, errant bill type-related diagnosis codes (for example, outpatient services should not use admitting diagnosis codes), admissions dates, claim filing indicators (set up by the billing software which may not be visible on the claim itself), zip codes, etc. None of these are by themselves huge, but again to use a truism, "The devil is in the details."

Scrutinize the claim and see that all required and appropriate fields are completed.

In some cases, providers assume that billing is easy and routine. It isn't. Don't fall into the trap of a quick orientation and training and hope the biller has it right.

Conduct a thorough triple check of all claims. This can be a multi-disciplinary review of all claims prior to submission. Stay tuned for another blog diving deeper into this.
Measure twice. Cut once. Great advice for the do-it-yourself projects and for claims submission. It makes cents.