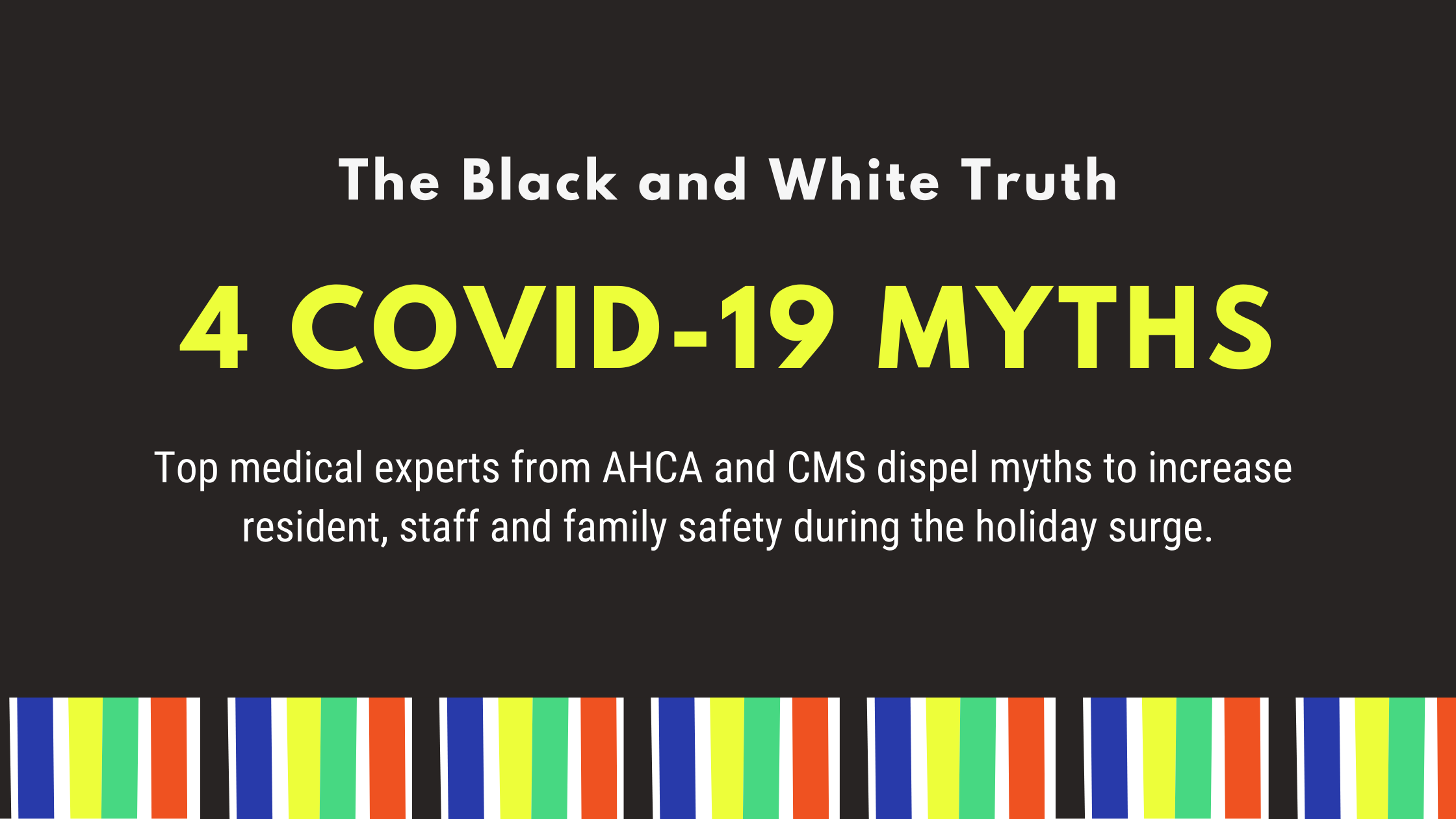 This week, AHCA/NCAL released an 8-minute video with their Chief Medical Officer Dr. David Gifford and Dr. Shari Ling, Deputy Medical Director at CMS. The two discussed common myths among senior care communities and corrected them.
Below is a summary of their discussion. Also available is an at-a-glance summary to share with your staff, residents and their families.
Myth #1: Testing Negative After Exposure Means You're All Clear
False. If you know you've been exposed to COVID-19, an immediate test does not mean you're clear. You should wait 5-7 days post-exposure to test and isolate for 14 days.
Myth #2: It's OK to Unmask Outside of Your Senior Care Community
False. Many people are getting infected outside of the facility – most often at family gatherings or restaurants. Further, more than 50% of COVID cases are asymptomatic.
Myth #3: You Only Need to Mask-Up Around Residents
False. Beyond residents, your mask protects you, coworkers and anyone you contact outside of the community. Masks should be worn in all areas of the facility, including break rooms, and out in public.
Myth #4: It's Rude to Alert Other Staff of Improper PPE Use
False. Don't be afraid to tell coworkers if masks have slipped and thank others for helping you. It happens, so we all need to band together and help each other be safe.
Want more? See this article: How to Dispel a Dozen Covid-19 Myths for Patients.
We've reached another critical stage in this pandemic. It's time to snap back to attention and increase safety measures during the holidays. We hope these resources will help.